Join us for the 3rd annual Dales 50 charity bike ride. 
On Friday 10th May 2024, lace up your cycling shoes and get ready for the 3rd annual Dales 50 charity bike ride in support of Mind in Bradford and Mental Health Awareness Week. 
Dales 50 cycling itinerary
This spectacular 50 mile route takes you through the rolling hills and picturesque landscapes of the Yorkshire Dales. The ride starts and finishes in Otley, with a mid-ride stop in Harrogate for coffee and snacks. 
Start and finish point: The start and finish point for the ride will be North Bar Social, located at 8 New Market St, Otley LS21 3AB.

 

Arrival time: Riders can arrive at North Bar Social from 7:30am onwards for breakfast before the ride.

 

Start time: At 9:00am, all riders will set off on their bikes from North Bar Social to begin the ride.

 

Mid ride: Around 1-2 hours in, there will be a quick stop for riders to have a snack and coffee to refuel at North Bar in Harrogate.

 

End of ride: The ride is expected to finish around 1:00pm or later, when riders will return to North Bar Social for a victory pint (or soft drink) and food from a nearby street vendor to celebrate completing the ride.

 

Route: The planned route is approximately 50 miles spanning from Otley to Harrogate and back to Otley again.

 
Whether riding solo or with a team, you'll enjoy breakfast, lunch, refreshments, a goody bag, and a free pint at the finish line!
Tickets cost £50 each, which is all donated to our charity partner, Mind in Bradford. 
Here's the breakdown of what's included:
Entry to the Dales 50 ride: This is a 50 mile circular cycling event starting and ending in Otley.

Breakfast and coffee/tea: Before the ride begins, riders can enjoy breakfast and coffee/tea at the starting location of North Bar Social in Otley.

 

Coffee and pastry: During the ride, there will be a stop for coffee and pastries at the North Bar location in Harrogate.

 

Professional photographer to capture your game face on those hills: A professional photographer will be present during the ride to take photos of riders conquering the hills along the route.

 

Victory finisher's pint or soft drink at North Bar Social: At the finish of the ride back in Otley, riders can celebrate with a victory pint or soft drink.

 

Food from street vendors: After completing the ride, food from local street vendors will be available for purchase.

 

Dales 50 Rider's Goody Bag: All riders will receive a Dales 50 Rider's Goody Bag filled with fun memorabilia from the event.

 
Last Year's Success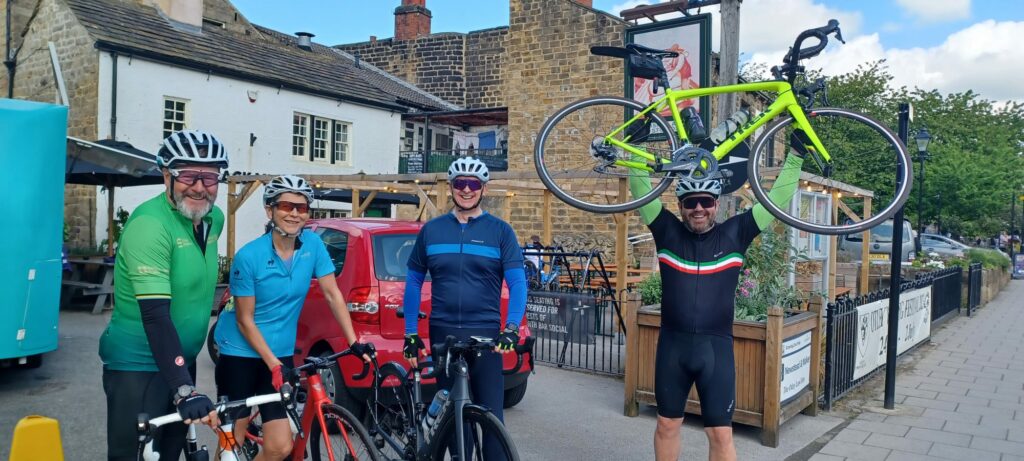 Last year, the Dales 50 raised over £3,000 for mental health support and services. Join us for this beloved cycling tradition and take in the sweeping views while raising funds for a great cause. 
Registration is £50 per rider. To sign up or get more event details, please email Berni Marks at BerniMarks@bartonlegal.com.  
Can't make the ride? You can still support Mind in Bradford by donating through our JustGiving page. Every contribution makes a difference! 
We hope you'll join us on Friday 10th May 2024, for camaraderie, challenge, and change! This annual cycling event is proudly presented by Barton Legal, North Bar and Chevin Cycles. 
More About Our Charity Partner
The Dales 50 ride raises funds for Mind in Bradford, a mental health charity providing services across the Bradford district.  
Mind in Bradford operates housing, crisis support, counselling, therapy, group activities, education workshops, and more. Their mission is to support better mental health for all through advocacy, awareness, and direct services.  
By participating in the Dales 50, you'll be improving access to mental health assistance for your neighbours in need. The funds raised enable Mind's critical programs to support mental well-being in the community.  
Join longtime partners like Barton Legal, North Bar, Gordian Financial Services, and Chevin Cycles to keep this tradition rolling!  
Join The Ride! 
Register now for the 2024 Dales 50 charity bike ride. See you at the start point on 10th May!